Google Map Pack: What is it, and 4 Strategies to Use it for Your Local Business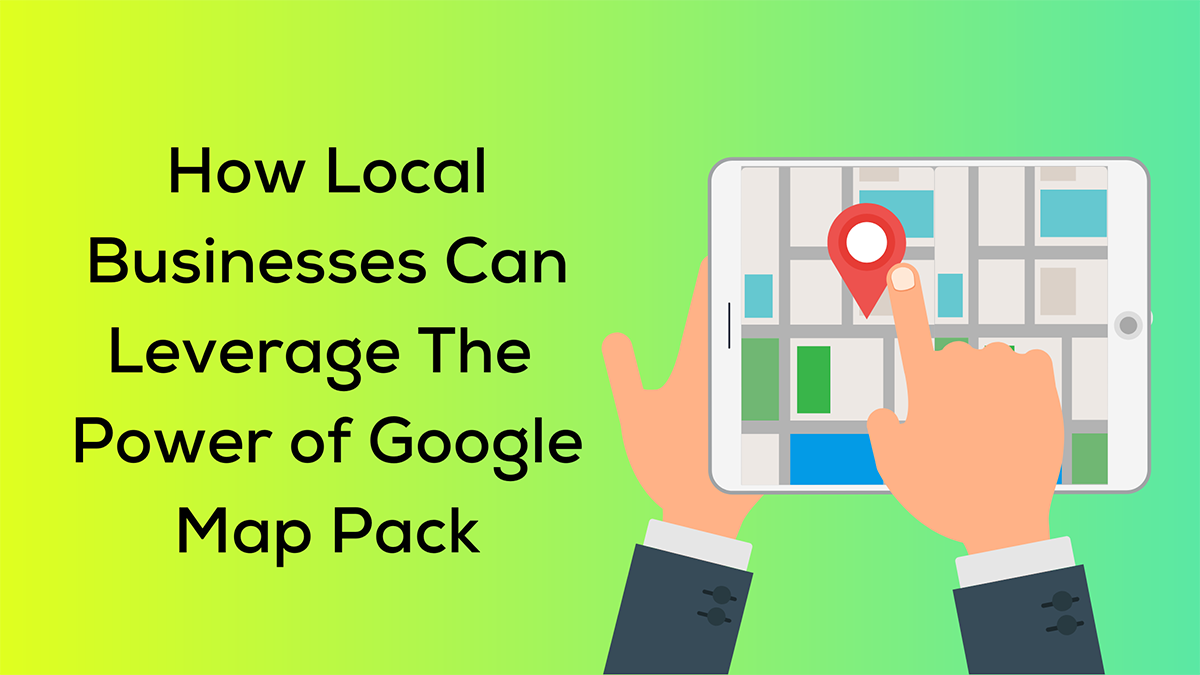 According to the US Small Business Administration (SBA), small businesses (under 500 employees) make up 99.9% of all US businesses. They account for nearly half (46.8 percent) of the US workforce.
Most businesses are looking for new customers, especially when the economy is not booming. If you have a local business and are looking for new customers, Google Maps could help you find new customers. 
Google Map Pack can improve your presence in local search results and make users more likely to find your business when they first begin their search.
Let's start at the top: What is Google Map Packs?
The "Google Map Pack" (also known as the Google Local Map Pack) is the top-ranking local listings. They display in a prominent part of Google local search results.
Businesses and their details appear in the Google Map Pack along with their address, phone number, operating hours, and other valuable information.
Users can click on a listing to get more information about the business, phone the number listed, or access Google Maps directions to the company's location.
Nearly one-third of all mobile searches are location-specific, and Google is the most popular search engine for finding local businesses.
What information does it contain:
Visual map
The visual map helps people locate businesses on a Google map. The map allows users to highlight one specific pin and click on more details. You can see how the map outlines the top results below: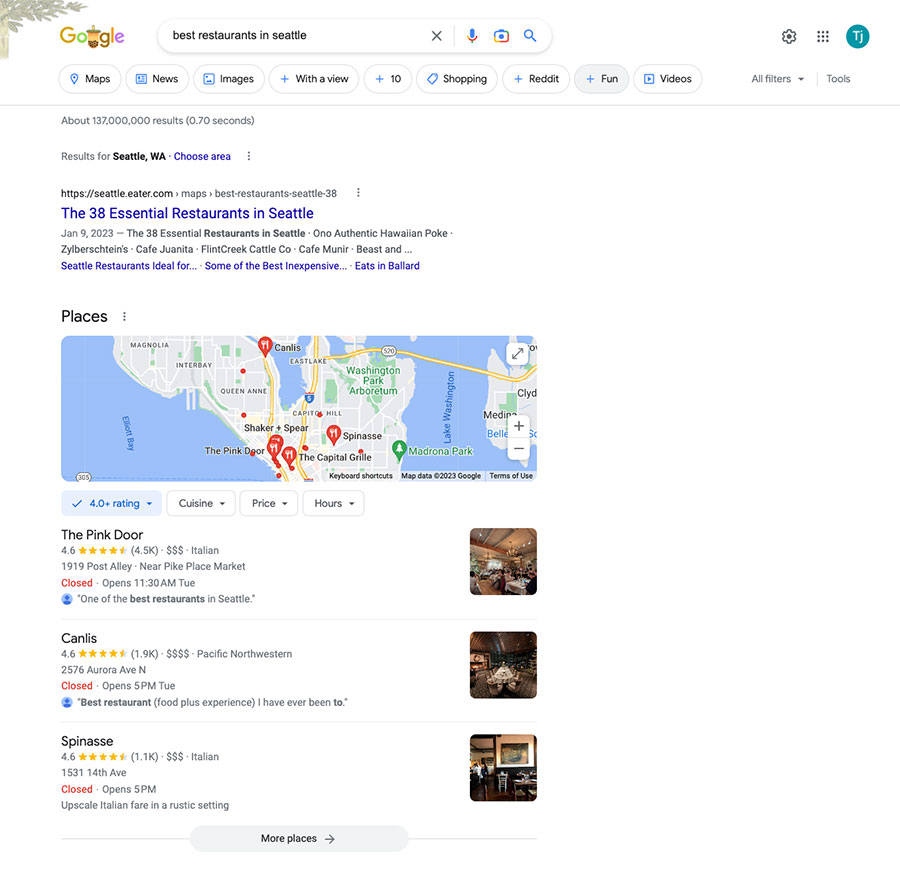 Business name, physical address, and phone number 
At the top, you get the business name. This position is followed closely by the address. For each listing, once clicked, you can also see a phone number and other actionable information. 
These pieces of information need to be perfect. They need to be accurate and crystal clear to someone searching.
Ratings and reviews
Just below the company name, Google Map Packs show the Google Reviews for that business. There are multiple factors of the reviews that deserve focus: the overall rating, the volume of reviews, and finally, the content of each business review. 
An ideal review is 4-5 stars and provides the reader with enough information that they gain confidence in your business.
Industry and time in business
I don't know about you, but if a local business has been in business for 50 years, I immediately feel more comfortable doing business with them. 
While you can only be in business as long as you have, you can clearly outline your industry. Paired with ratings, even a company that has not been around for decades can have a firm footing. 
Hours of operation
This piece of the Google Map Packs is beneficial. Most of the time, the map display will outline whether your business is open or closed at whatever time someone searches. For a prospect, knowing that they can do business with you right now could be the final push needed to convert them to a customer. 
Price range, images, and other information
For brick-and-mortar businesses, the price range can help a searcher decide if your company is a good fit. Images and meta information can add weight to your business as they look through options.
Now that we know what Google Map Packs is, let's learn how to leverage it to find new customers.
See how Ravenna can Increase Traffic to Your Website
SEO: Grow your ranking in the organic results and see real results
Content Marketing: Our team can create great content for your site that will get views, links, and attract traffic
Paid Ads: We can drive real ROI through a clear paid strategy
Here are four easy-to-follow Google Map Pack strategies to rank your local business higher in the SERPs
1: Build a great Google Business Profile (Formerly Google My Business)
Building a great profile might seem like the whole point of the article, and it is, but the goal is to create a fantastic profile that sets you apart and gets you ranked.  
Creating a complete profile is likely not done in a single sitting. This work requires dedication and is done over a week or more to correct all the details. So let's jump in. 
View Your Business Profile Through the Google Maps Mobile App and Google Search 
You should always test using the platforms your customers are using. Google the industry and location of your business. Use the Google Maps mobile app to do this as well. Review how things look in both cases. Do this on desktop and mobile web browsers as well. 
Testing things across these different environments will help give you a sense of how your business is displayed and what areas could be improved. 
Keep Your GBP (Google Business Profile) Up To Date
It is imperative to think of your digital presence as an extension of your physical business. For example, suppose you do not keep your physical space clean and ensure all signage is informative. In that case, your customers may leave or, worse: have a bad experience and share it online. 
Your online presence is the same. As things change, you need to keep them up to date online. For example, if you have summer or holiday hours, ensure they get updated in your GBP.
Use Consistent Spelling for All of Your Local Businesses
The devil is in the details. Establish consistency in naming and descriptions to build trust and confidence. It may seem small, but successful businesses ensure the details are correct.
Use good images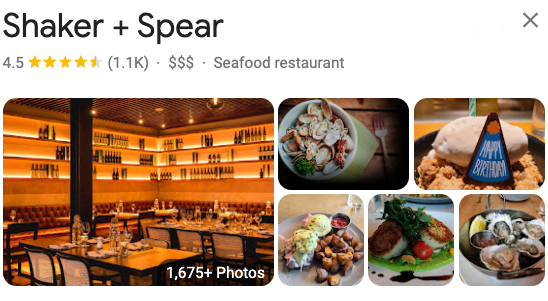 "A picture is worth a thousand words"; this is especially true when you have so little space for words. Looking at the Google Map Packs listing, you will see that about one-quarter of the area is an image. If you click a listing, the photos are at the top.    The above example is a great way to showcase beautiful images, I want to go have a drink and grab a bite.
Your images need to be great. Here are a few tips:
The subject of the image should be prominent even at a small size

Use high-quality images

Get feedback from others to see if your photos are helping your listing
Research has found that 90 percent of the information our brain processes is visual. We remember 65 percent of what we see, compared to just 10 percent of what we hear.  
Images are critical to your profile.
Use a Local Phone Number, Not a 1-800 Number
The local area codes here are 425 and 206. Those numbers are very recognizable to anyone who lives in the area. They communicate that the business is local and that they have someone local with whom they can speak. 
Write Exceptional Copy for Your Business Description
A clear business description will help set you apart from the competition. To succeed in ranking with Google Map Packs, you need excellent copy that stands out. Your description represents you to a potential customer and Google's algorithms.  

Be Incredibly Detailed With All Your Information
As noted above, the devil is in the details. Good copy, a clear description, and the responses you write for reviews all require details.   
Give your prospects as much detail as you can.
Correct Inaccuracies
Part of managing your Google Business Profile is keeping things up to date. Issues occur when something changes with your business, but you do not update your profile. Over time inaccuracies can creep in. It could be an hour's change, or your pictures no longer represent you as well as they could. Keeping your profile error-free will help your community trust you. Keep your GBP up to-date and free from inaccuracies.
2. Interact with your customers
Nice work. You want to leave an unforgettable impression on everyone who interacts with your digital storefront. You have a fantastic Google Business Profile. Now we have to keep them coming back.
How can you interact with your customers, you ask?
Manage GBP Reviews
Research has shown that more than 75% of consumers read Google Reviews when they Google a business. More important is this stat: more than 85% are more likely to choose a company that responds to all its reviews online.
You must pay attention, interact, and ensure your prospective customers see the best reviews.
Respond! Even too the Bad Reviews
It is hard to be perfect. But you can improve that customer's experience when a negative review is submitted. The way to do this is to respond with understanding and grace. Find ways to improve your business process or help employees understand how they could do better. Offer to resolve the issue with a customer who left a negative review. This interaction will help prospective customers see that you are connected and working to provide a high level of service.
Get more reviews
Duh! Ask your customers to review your business. One way to do this is by emailing a review page link. 
Reviews can also become a powerful tool to understand how your business is doing, find areas for improvement, and learn common themes people share about your company.
3. Create Local Citations or Backlinks
Citations are references to your business name, address, or phone number that create validation and authenticity for your business. Backlinks are actual links to your company websites from another site. Both are valuable and can raise awareness about your business.
Be Consistent
It doesn't matter where the reference or link comes from; keep things consistent. It is also ok to kindly ask that someone fix an inaccuracy.
Social Media 
Building your social media profiles is critical to creating backlinks and providing information about your business. 
Here is a great reference point for a clean and clear Facebook page citation for the Woods Coffee Shop in Bothell, WA. All relevant details are available if I want to visit this business.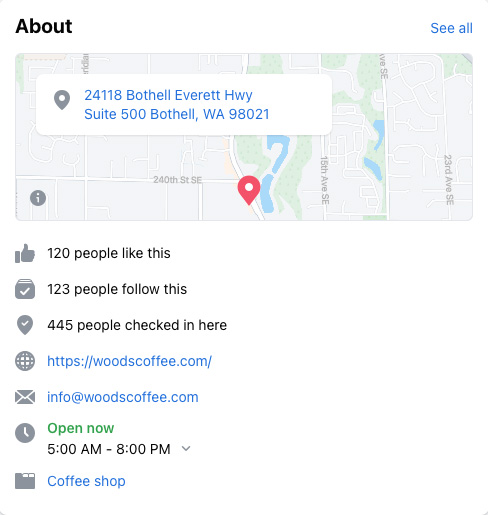 Don't just stop at citations. Social media can be a place to build a persona. Gone are the days when someone posts random pictures on your profile, and you get interaction. Use Social Media to share things going on, upcoming events, product reviews, exciting things at the office, and anything else that can further communicate your brand and its personality.
Review Sites
Google is one of many places where customers leave reviews. As I mentioned earlier, more than 85% of consumers use reviews as a primary consideration when purchasing. While the Google reviews on your GBP are essential to maintain, you must apply the same logic to other review sites.
Someone may come across your site on Yelp or any other review site. Your business must have precise citations on those sites and also managed reviews. 
4. Utilize search engine optimization best practices on your website
Finally, we are nearing the end. None of the ways to improve your Google Business Profile, Social media, or review sites will help without a good quality website. So, here are a few recommendations:
Use Local keywords
Up front, you need keywords. Keywords describe your business. If you are a Seattle-based coffee shop, use "Seattle Coffee Shop" as one of your keywords.  
That said, you may have a ton of competition because Seattle is known for its coffee shops. While your coffee shop may be in the greater Seattle area, you may want to target longer-tail keywords. Long-tail keywords include multiple words. An example would be "best coffee shops near the University of Washington." This keyword will have less competition even though your business is still in "Seattle";
Test Page Speed
Ever been to a site that takes forever to load? It is frustrating! It leaves a horrible impression. Additionally, Google has clearly said that page speed is a factor in its algorithm. Faster page speed can create a better experience which can increase page views and conversions. 
Use Local and high-quality images
As referenced above: use great photos. They should look great small and look great big. If you don't have great photos, find a photographer by Googling "great photographers near me." Paying for great images can improve the chance someone clicks on your Google Business Profile and your website.
Congratulations if you are still reading this. This post has been a journey. Now that we have covered how to optimize for the Google Map Pack, here are a few questions others have asked that may help:

FAQ
How does google Maps pack work? Google's algorithm decides which businesses will appear in the Map Pack results. Google puts this section higher than the expected search results, which makes this a highly competitive space.
Is Google Maps good for SEO? Getting into the Map Pack can be an incredible boost to your business and increase your presence from an SEO perspective.
How do I increase SEO on Google maps? Here are a few steps you can take right now:
Setup a Google Business Profile

Verify your business locations.

Setup correct hours

Keep up with Reviews

Upload great photos

Include information about your products and services.
How do I promote my google map? Location assets are not free. Google Business Profile is free. But, if you use Google ads, you can enable your account location assets. Google will charge you between $2 and $14 per one thousand requests. These location assets ensure that users see more information in local ads results.

To Conclude:
There is a clear path if you want to start ranking in local search results. It does not happen overnight, but it is achievable.
Finally, getting listed on the Google Maps Pack will ensure prospective consumers have a better chance of finding you.
Follow these steps yourself, or hire us to do it. We'd be happy to review your site and discuss options to reach your goals.